Yellowstone National Park is one of these places I had heard about when I was working for Lonely Planet in Paris, as I posted so many pictures of its famous colorful pool on social media. For a long time, I thought Yellowstone was only about that crazy-looking pool. And I naively thought it was one of these very remote, barely visited places in the US. Well, we actually made it here, and I must say all my assumptions about this park were completely wrong. There is so much to see and do in Yellowstone that it kept us busy for a full week and it's the biggest, busiest US national park we've visited.
About the Summer crowds in Yellowstone
Yellowstone is crazy busy in summertime. You must wake up everyday at 5 or 6 am if you want to have a successful experience here, for two reasons: getting a campsite (everything gets full by 10 am), and visiting the features without the crowds. And I mean real crowds. You must know that there are tour buses coming here, throwing groups of hundreds of tourists on the boardwalk, and it gets unbearable. After 10 am, the parc features & boardwalks just look like Disneyland and it's a sad experience. If you visit everything between 6 and 10 am or between 7 and 9 pm, it will look more like the Louvre of geothermal features, on your own (+ you will see wildlife and the light is better).
Yellowstone at dusk and dawn: a group of wapitis (otherwise called elk) elegantly walking among a group of thermal pools and Henri (almost) alone at Old Faithful in the wee hours of the morning.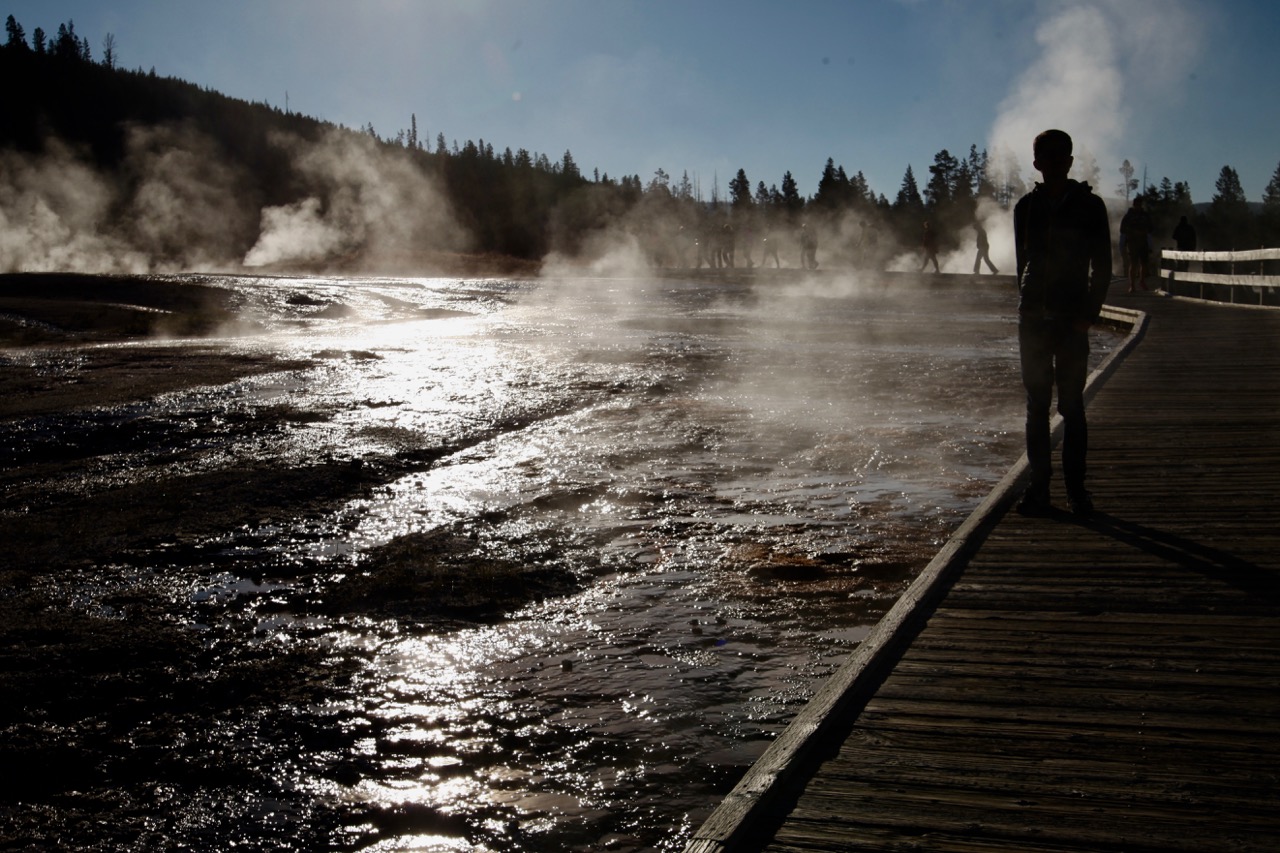 Yellowstone between 10 am and 5 pm : a group of visitors, some of them throwing rocks inside the pool, asking their kids to touch the water in front of a warning sign advising against it, or writing their name on the stone. We stayed 5 minutes near that pool and my faith in humanity still needs to be restored.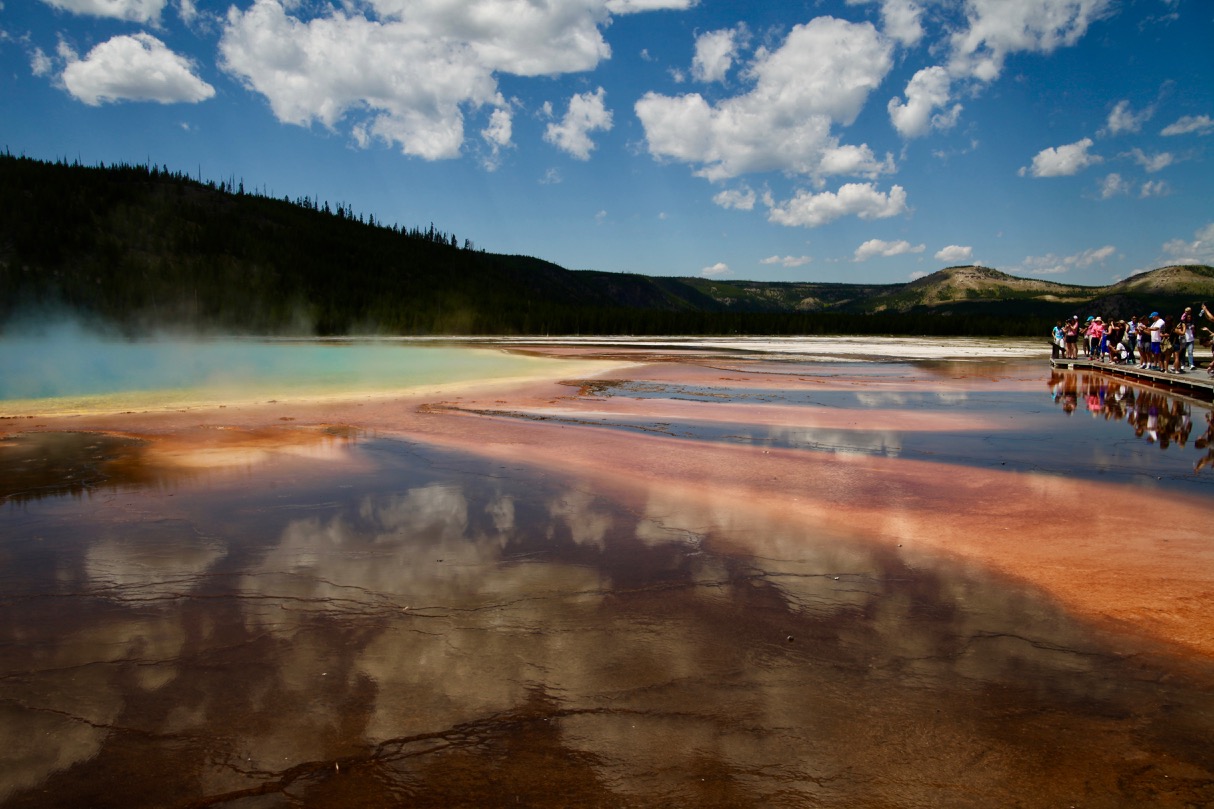 Some areas of the park are busier than others, specifically Old Faithful and the Yellowstone Canyon areas. And the park is huge! We stayed 6 days and we only visited 2/3 of the front-country thermal features. We probably missed out a lot on the wildlife areas (Lamar Valley, etc). Everything takes a lot of time. One day, we got stopped on the road for about an hour as a bison herd was crossing it! It was incredible to see, but once we got to our next campground at 9 am, it was full, so we had to drive one more hour to the next campground and literally got the last free site there after Henri ran to reserve it before the next person. So crazy! You've been warned if you're heading there in July.
What to see after you woke up very early
When you see Yellowstone you understand why Americans don't really need to travel abroad to see nature, everything here is the biggest, the greatest, etc. Visiting Yellowstone basically means walking on a huge volcano in constant evolution. You learn a lot about geology, and I'm happy that I can explain now how a geyser works in simple terms. Pools and hot springs are some of the most photogenic features at Yellowstone, because of their vibrant colors, the most popular being Grand Prismatic Spring (the one I thought WAS Yellowstone).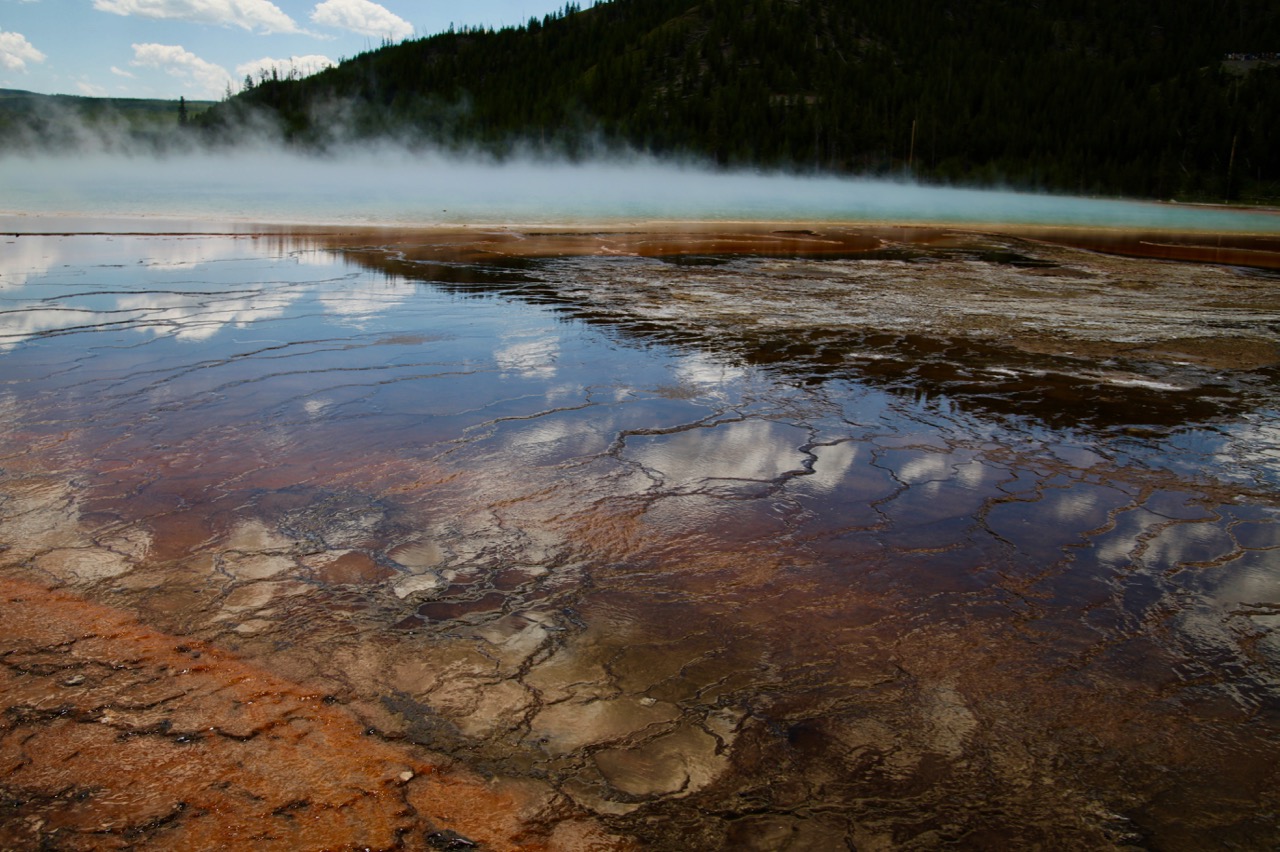 Morning Glory pool (on the Old Faithful Trail) was also very pretty and photogenic.
The turquoise blue pools are fascinating. Their water looks welcoming, but they are actually the hottest pools and the most "dangerous". Some dude intentionally went off-trail and dissolved himself in these waters last year. Yup.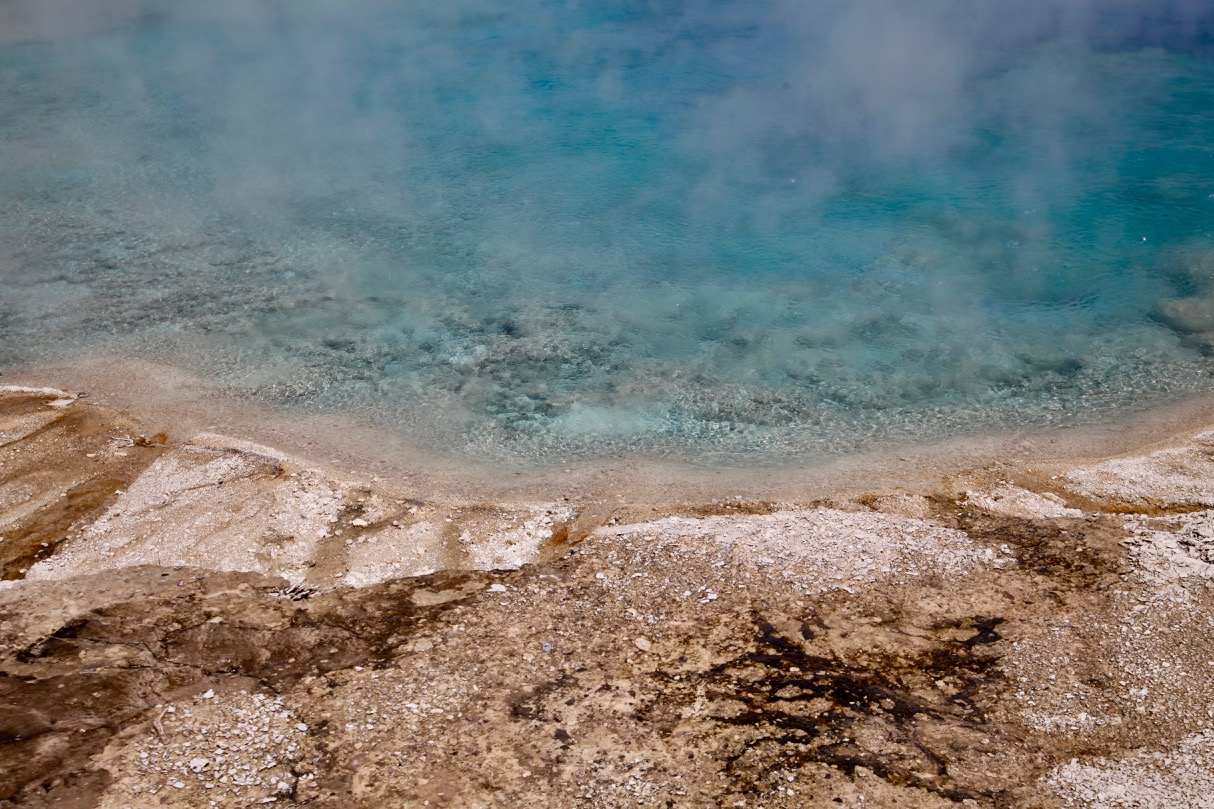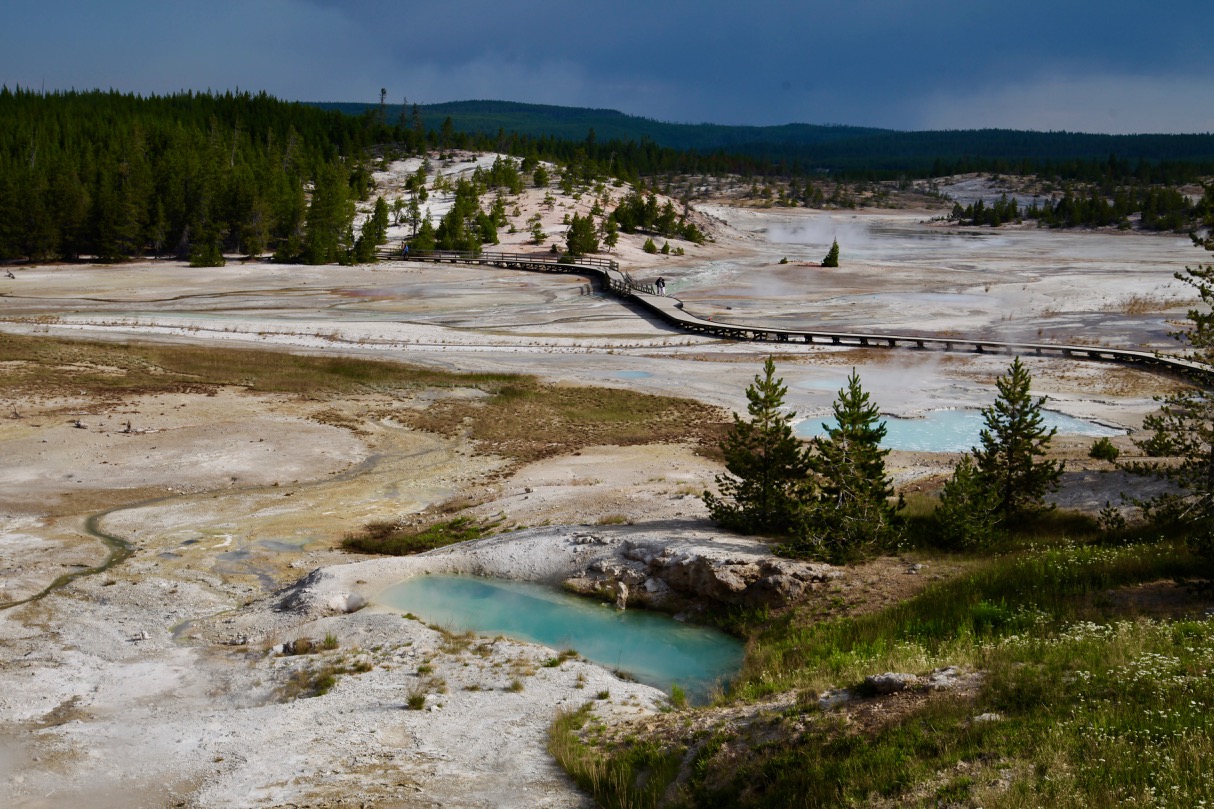 There are also red pools…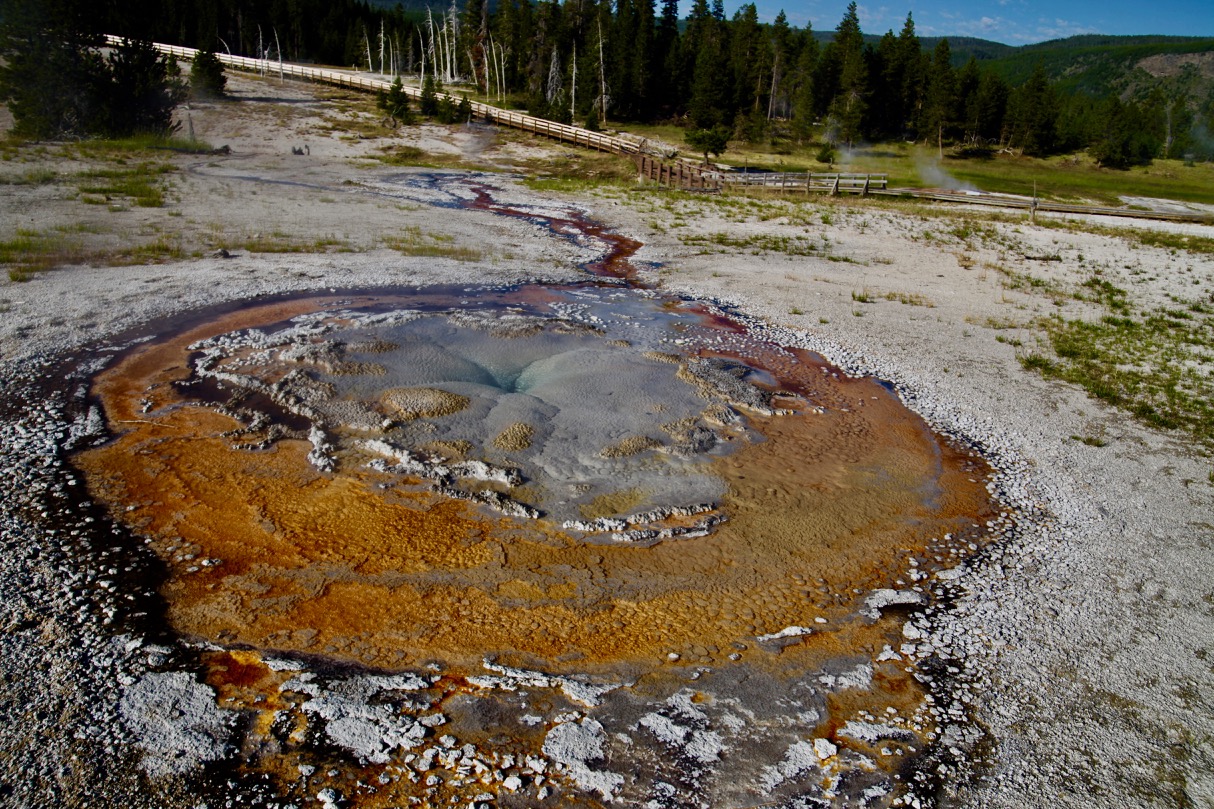 Yellow pools…
… and green pools…
There are more geysers in Yellowstone than anywhere else on the planet. Some of them are predictable, some are not. The Old Faithful geyser erupts every 90 minutes, which makes it the most popular in the park. Each geyser has its own "personality". One of them randomly erupted as I was walking next to it.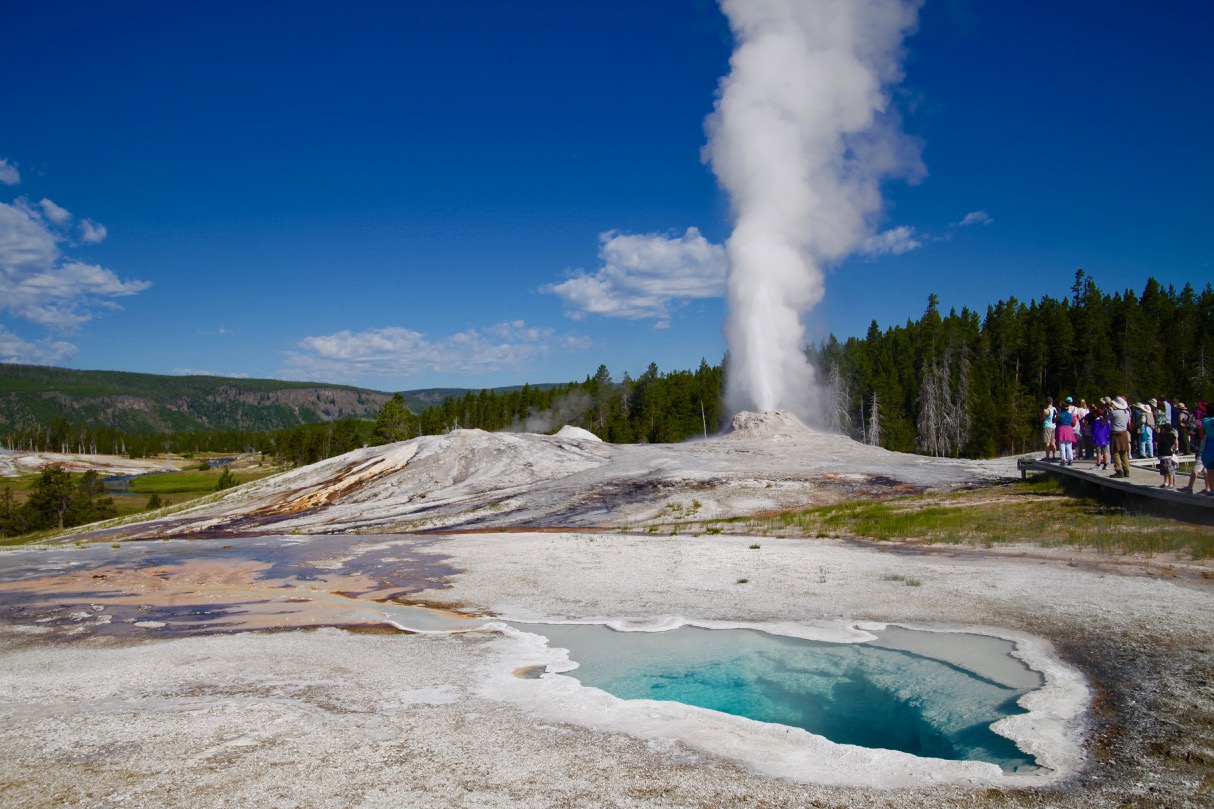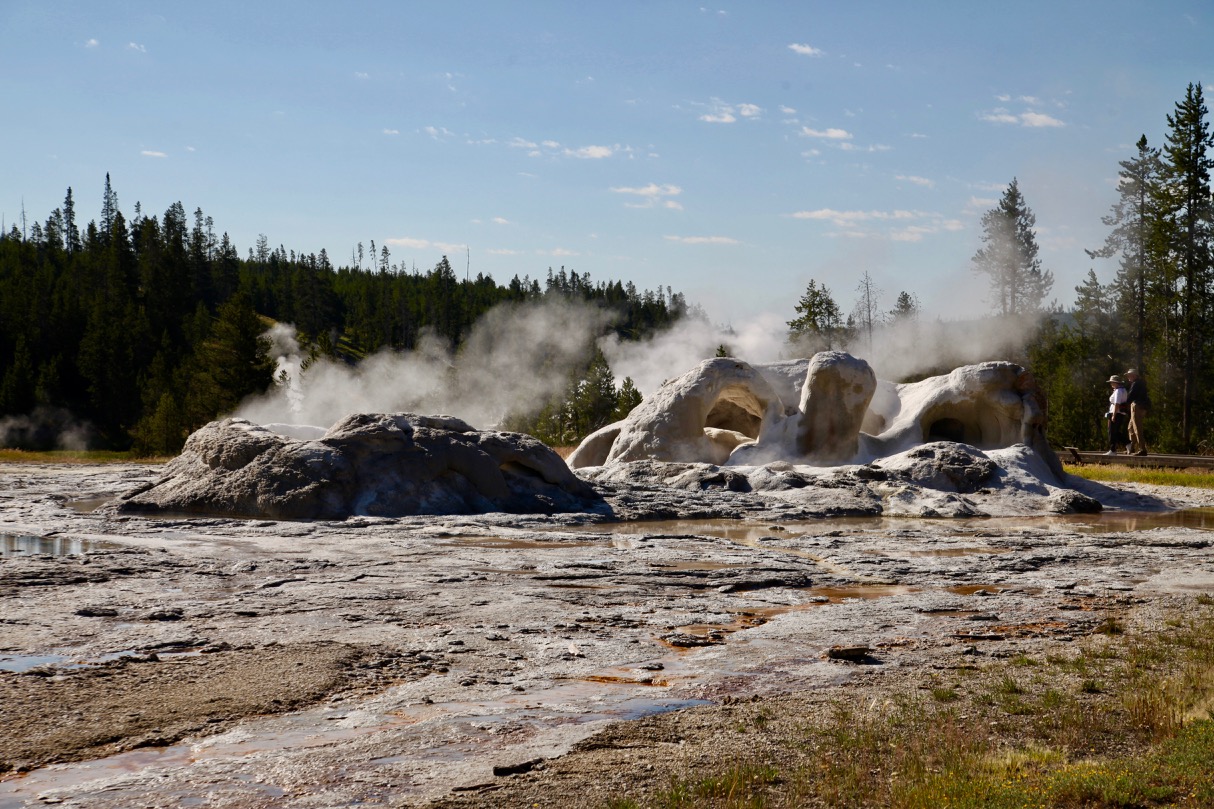 Mammoth Hot Springs is one my favorite areas of the park. It's really, really pretty and we did spend a good 3 hours walking that specific trail.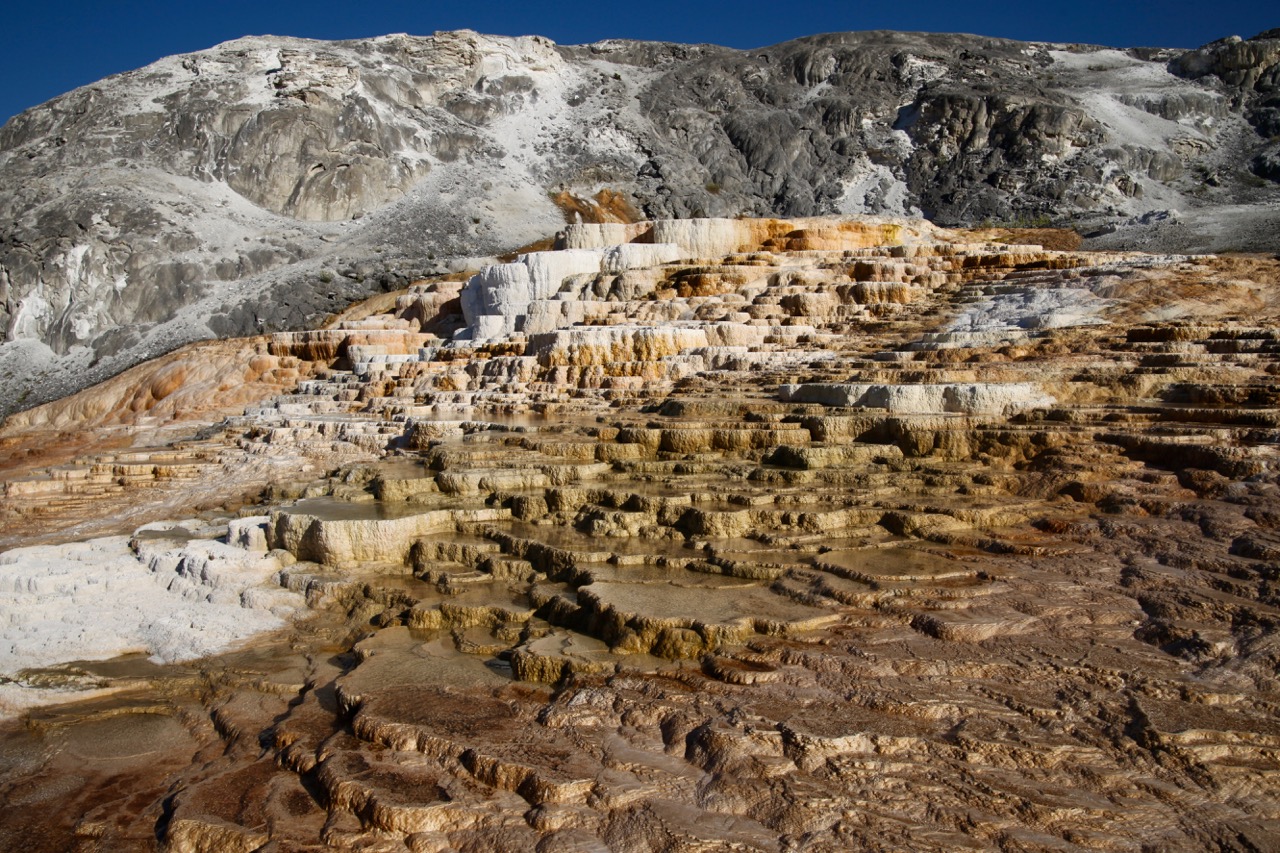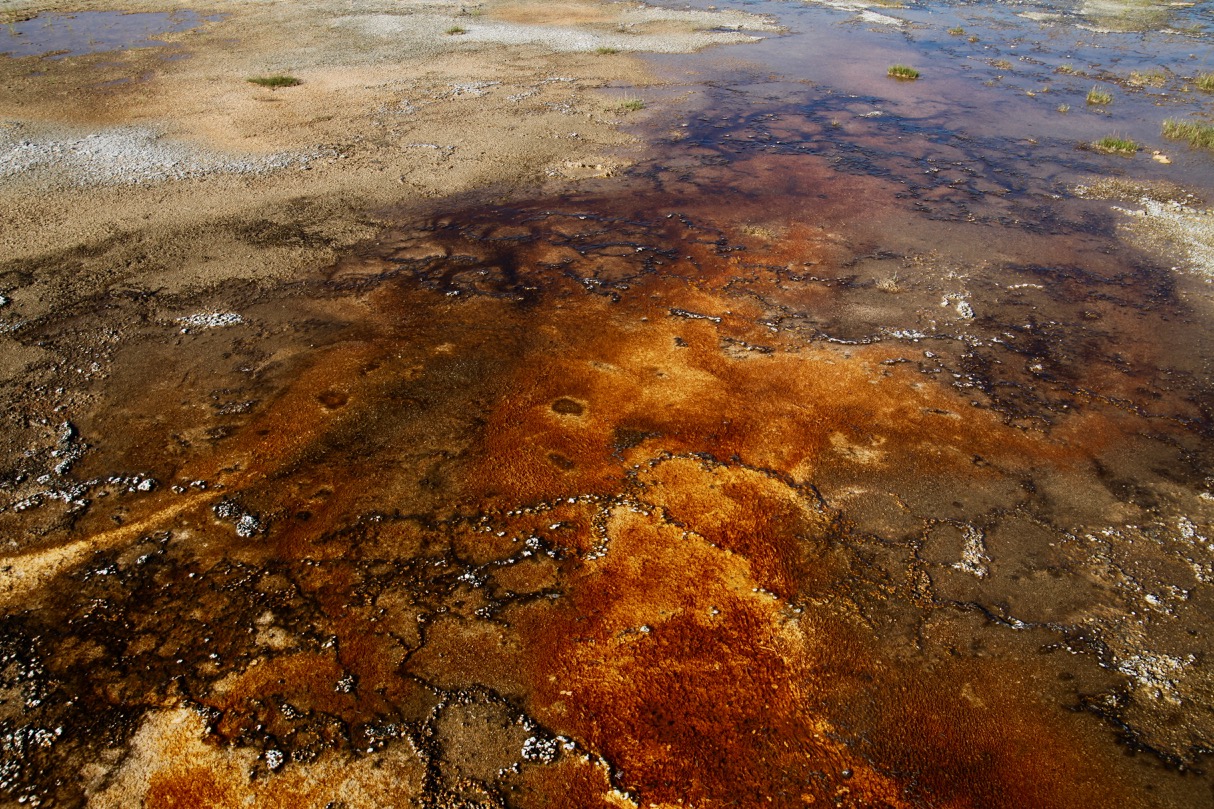 Finally, the Yellowstone Canyon was a big highlight. It is really yellow and it is really big.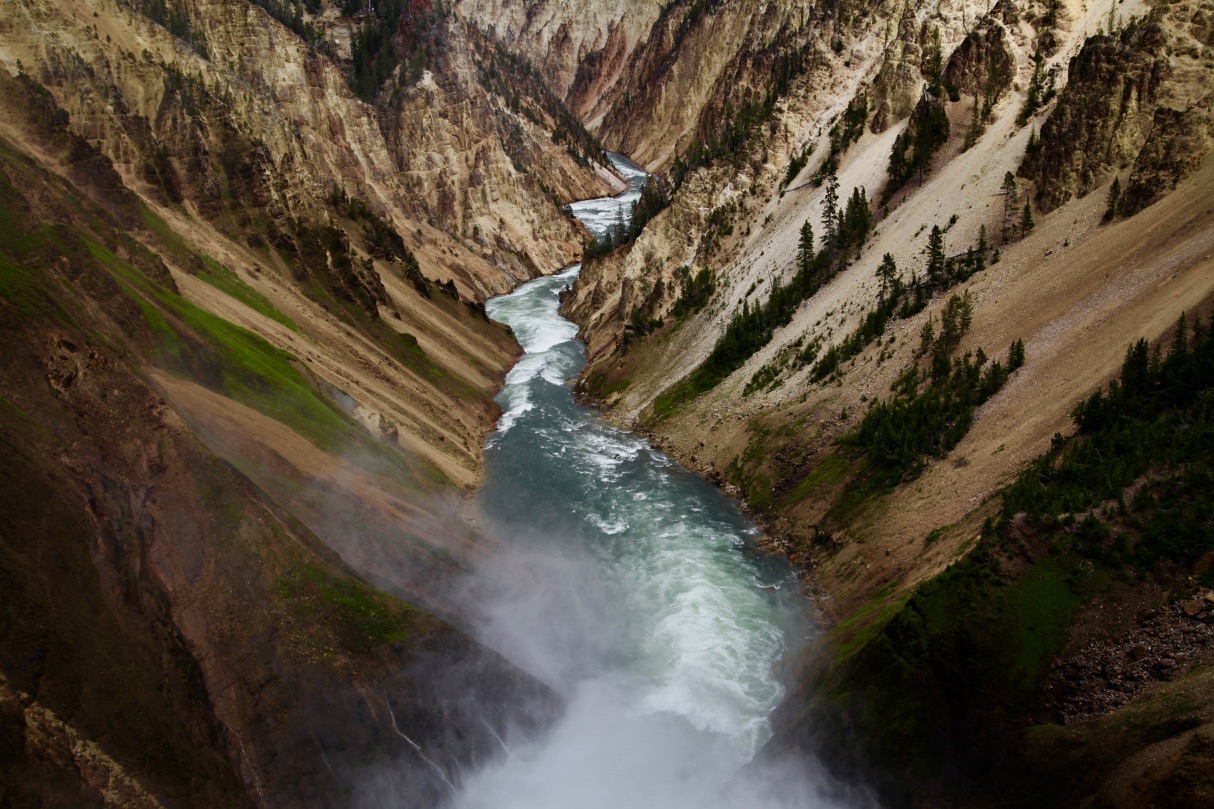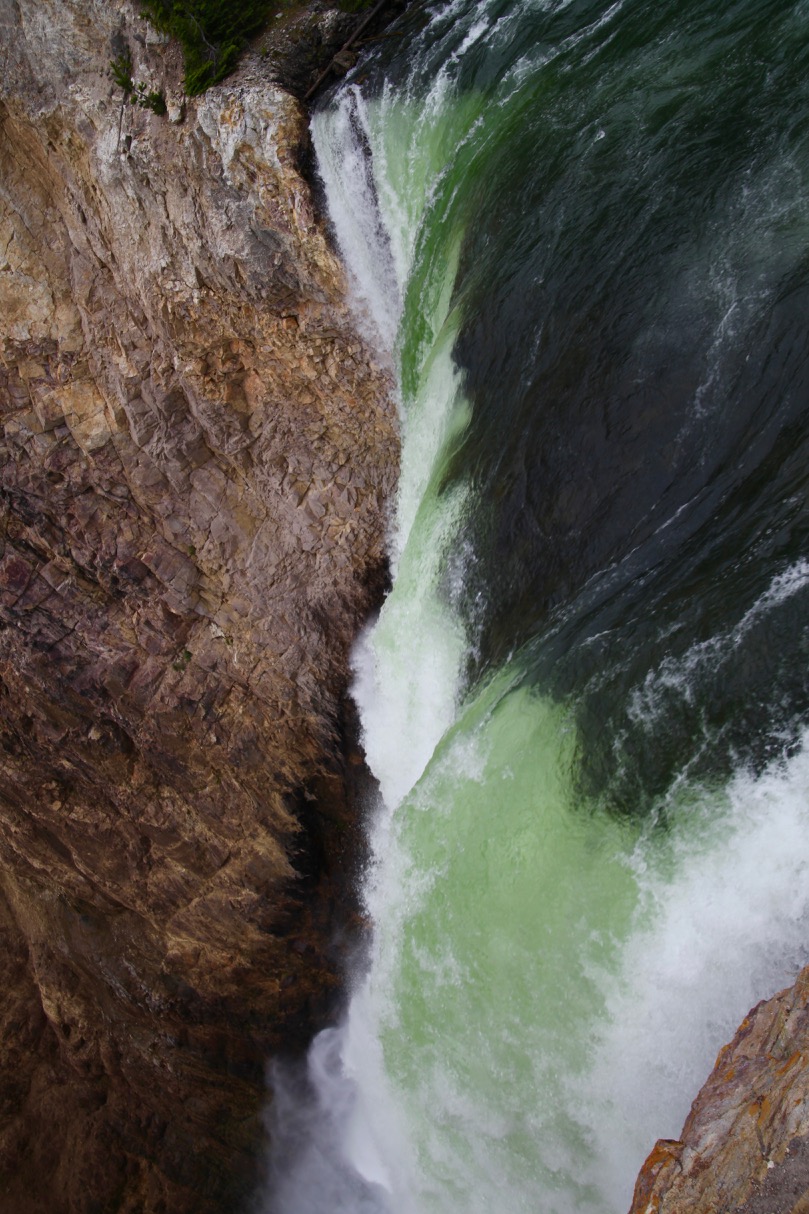 Other tips to visit Yellowstone National Park:
Camping: We found free spots after 9 am at Indian Creek and Lewis Lake (dry camping). Tower Fall, Mammoth & Norris are also supposed to be less "crazy" than other campsites, but they were full at 8 am anyway when we were there.
Network/LTE: the only place in the park were Verizon LTE was actually working all day was Mammoth Hot Springs. Between 6 and 9 am it works at Grant Village and Old Faithful, but after that it was saturated.
Roads: there are road closures, and it's important to check them. We wouldn't have been able to go back to our campsite after 10 pm if a nice camper did not warn us about it.
Safety: never touch the water… we saw a lot of hats inside because of the wind, so watch your hat. Sunscreen and a gallon of water mandatory if visiting during the day.